"Pavarotti" and "Vlado Divljan" documentaries, winner of jury prize in Berlin and winner of best director award in Cannes!
Much like its first day, the second day of the Vukovar Film Festival, brings to its visitors top movie program. At 12:30 pm in the Croatian House Vukovar you have a chance to see the French movie treat "Sibyl" premierely showed in Cannes. The movie shows life of psychotherapist Sibyl who decides to return to her first great love - writing. But her newest patient Margot, a troubled up-and-coming actress, proves to be a source of inspiration that is far too tempting. In leading roles are Virginie Efira, Adèle Exarchopoulos and Gaspard Ulliel.
At the same place, but starting at 3:00 pm you have a chance to see a real movie treat - Belgian movie "Young Ahmed". Directed by brothers Dardenne who were for the third time in their careers awarded best directors at this year's Cannes Film Festival, their eleventh long feature film is a modern story about the radicalization of a young mind, and the theme itself opens the discusiossion about the interpretation of Kur'an by a teenager under its influence.
In CineStar at 10:00 am children have the opportunity to watch Mexican animated film "The incredible story of stone boy" and at 16:00 you'll get to watch a new film by British actor and director Ralph Fiennes, "White Crow". This double Oscar nominated actor ("Schindler's List", "English Patient"), brings us a story about the ballet legend Rudolf Nureyev. As a part of "Norway invasion" category, at 5:30 in Croatian Home Vukovar, the biographical story of the famous ice-skater Sonja Henie, "Sonja: White Swan", will be screened.
But in the end, we left the best for late afternoon and evening. In CineStar at 6:15 pm we expect the most attractive documentary in the competitive program of this year's Vukovar festival - "Nebeska Tema". It is a story about Vlado Divljan, the singer of the popular music group Idoli directed by Mladen Matičević who will greet the audience before the screenings. At the same location, but starting at 21:30 the audience will have a chance to see comedy-drama "Winter Flies" which was this year's Czech contender for Academy Award.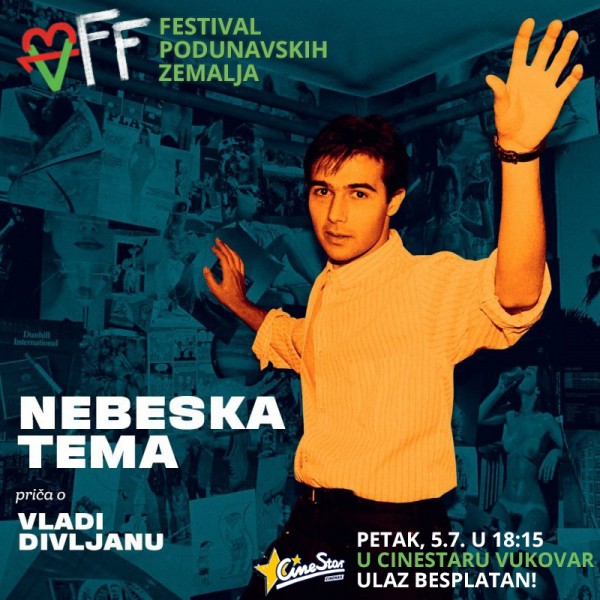 On the terrace of Agency of Waterways in the categories of short and long feature films we will be screening films "Diagnosis" directed by young Hrvoje Mandic and "The Bra" directed by Veit Helmer in which Serbian movie star Miki Manojlovic is the lead. In Eltz castle park we will screen a new movie by French director François Ozon "By the Grace of God", the winner of this year's jury award in Berlin – second most important award after the Golden bear. On the most attractive location, Magenta 1 Vukovar Waterbus, at 21:30 you'll get to see a real movie treat – Oscar nominee Ron Howard's new film "Pavarotti".