Side programme > Matinees
Impy's Wonderland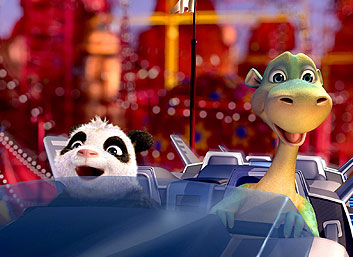 Impy's Wonderland / Urmel voll
in Fahrt

DUBBED INTO CROATIAN
Germany, 2008., 80'
Directors
Reinhard Klooss, Holger Tappe
Cast
Filip Grladinović, Zlatan Zuhrić, Aleksandar Cvjetković, Hrvoje Klobučar, Helena Minić, Franjo Jurčec...

Impy is a clever little dinosaur and lives with many other animals at Tikiwu island. When new animal, pandu Babu, appears at the island, Impy gets jelous for not being in centar of attention anymore. Searching for attention, Impy leaves the island and joins fun park on the road. But the fun park is not that fun afterall. The owner shows its real face and closes Impy in the cage. Will somebody save this cute dinosaur?
Reinhard Klooss is a producer, screenwriter and director. In 2006 he wrote and directed animated feature Impy's island.
Holger Tappe is a producer and director. In 2006 with Reinhard Klooss he directed animation feature Impy's island.
http://www.urmelvollinfahrt.film.de/

27.08., THURSDAY, 10.00, RUŽIČKA'S HOUSE