FILM WORKSHOPS ON 11th VFF FOR PROFESSIONALS, YOUNG PEOPLE AND CHILDREN
DANUBE SCREENWRITING WORKSHOP


111th VUKOVAR FILM FESTIVAL holds the traditional Danube Screenwriting workshop from 21st to 26th of August.

The purpose of the program is to provide intensive work on script for screenwriters in a relaxed, creative atmosphere with the support of the moderator, scriptwriter Sanja Kovačević as needed, and colleagues present at Vukovar Film Festival. lt is open to all who are developing feature films scripts.
People can apply to participate in the workshop through open contest. From the received applications, dramaturg Sanja Kovačević selects five participants of different sensibilities to achieve a productive group dynamics.
The workshop is free of charge, and in addition Vukovar Film Festival covers accommodation and breakfast for all participants.
21st to 26th of August, HRVATSKI DOM VUKOVAR
ANIMATED FILM AND COMIC WORKSHOP


As animated film and comics are closely related contemporaty media, this year VFF brings the connection of the two workshops in one – animated film and comics, for children aged 7 to 12, with maximum of 15 participants. Six days workshop is held by expert in comics, film, photograpy, editing and animation: Davor Šunk and Zvonimir Rumboldt.
The program contains introductory preparation on day one, two and three - visual works on selected themes are being completed, storyboard (comics tables), characters creation, characterization, backgrounds and animation prepraration, while on day four, five and six characters and backgrounds are interpollated,
animated and edited. During the workshop participants will be closely monitored by three trainers through all stages of a complex process important in animated film creation on given theme. Exhibition of storyboards (comics tables) and screening of animated film made by the participants will be held on the last day of the festival.
21st to 26th of August, HRVATSKI DOM VUKOVAR
FROM IDEA TO REALISATION – FILM WORKSHOP
This workshop is for young people from 15 to 19 years, for film enthousiast with or without experience who wish to make their film. Ten selected participants will take the pathway from completely empty paper to big screen and the audience. They will learn how to manage the language of film, write the script, act (it the film is to be a
feature), shoot the films, direct and edit it. The workshop leader is the acknowledged Croatian film director Ivan Salaj.
Films Six letter add and Easy to say, created on the last VFF workshop, have entered the competition for the upcoming 10th Four River Film Festival being held in Karlovac.
21st to 26th of August, HRVATSKI DOM VUKOVAR
COMPLEMENTARY ARTISTIC WORKSHOPS AND PERFORMANCES
"LIVING ALONG THE DANUBE" WORKSHOP
In cooperation with the City library of Vukovar and Vučedol Culture Museum, this interactive educational workshop for children from 6 to 13 years of age is organised within Vukovar Film Festival 2017. It accepts maximum of 12 participants by location. The workshop leader is Ina Bulić (Popović) from Bačka Palanka, who works with clay
and exhibits on numerous exibitions and events, while in this year she is opening Educational Centre for the Earth culture and architecture in Ilok. This two day workshop encourages visual expression of young people who live by the Danube.
22nd and 23rd of August, 12:30-14 h
CITY LIBRARY (open space) and VUČEDOL CULTURE MUSEUM
CARICATURE EXHIBITION AND FAST PORTRAIT DRAWING STREET PERFORMANCE 
With the wish to bring some brightness, humor and optimism to life in Vukovar, Croatian Association of Caricaturists has prepared on their own initiative, organised by Hrvatski dom Vukovar and City of Vukovar, an exhibition to be held from 21st to 26th of August within Vukovar Film Festival. You are invited to meet the authors of the caricatures on Friday 25th of August, while on Saturday 26th of August, take a stroll on the streets where you will be able to see fast portraiting of citizens.
Exhibition, 21st to 26th of August, open all working hours, HRVATSKI DOM VUKOVAR, LOBBY
Meet the caricaturists, 25th of August, 19 h, HRVATSKI DOM VUKOVAR
Fast portraying, 26th of August, during the day, CITY CENTRE/PEDESTRIAN ZONE
AFRICAN DRUMS ON THE STREETS OF VUKOVAR
A pinch of exotics and hot rythms arrives to 11th VFF with RitmOS from Osijek, playing on the streets of Vukovar in the evenings. The performances of ten bend members are organized by Hrvatski dom Vukovar. RitmOS plays on original African djembe drums, while occasionally using dundun drugms and other percussions.
All compositions are originals, except for a few traditional African compositions.
23rd to 25th of August, evenings,
CITY CENTER/PEDESTRIAN ZONE
PRESENTATION OF NATIONAL MINORITIES - BEAUTY IN DIVERSITY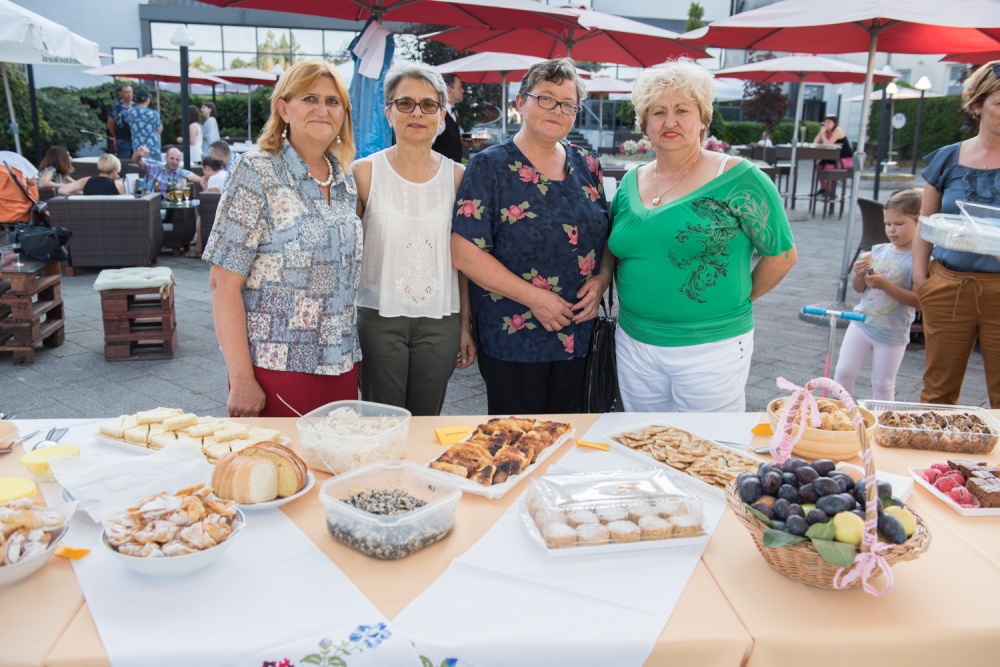 TUE 22.08.2017
Serbian national minority Council
WED 23.08.2017
Germans and Austrians Association of the City of Vukovar
THU 24.08.2017
Hungarian national minority Council
FRI 25.08.2017
Rusyn national minority Council
SAT 26.08.2017
Ukrainian national minority Council
HOTEL LAV, 22.-26.8, 17.30 h
BOOK PROMOTION: "QUALITY TV SERIES: MILLENIUM AGE OF THE SCREEN, BY SANJA KOVAČEVIĆ


Moderator: Daniel Rafaelić

Is film a species to face extinction? We find ourselves in times of great changes of media and culture. Television is referred to as "the new film", a media that dominates both commercially and more importantly, artistically. Sanja Kovačević holds diplomas in dramaturgy and sociology. She worked as the main scriptwriter in the drama series "Good Intentions" , as a scriptwriter on comedy series and as creative producer. In her book "Quality Tv Series: Millenium Age of the Screen", she describes how television won artistic and author's freedoms so far considered inherent only to films in the last 25 years, especially since the beginning of the nineties and the start of Sopranos. "Quality TV series" presents five contemporary series: Sopranos, Deadwood, The Wire, Mad Men and Breaking Bad. Sanja Kovačević suggests that it gets more interesting to view TV series by what they "contain", rather than by what they" lack". If we considered ourselves to know all about television and series, with this book it gets clear that we know
nothing. It is OK you are not into watching the series, now you can
read quality TV literature on the subject. (Dragan Jurak)
23. kolovoza, 18 sati, GRADSKA KNJIŽNICA VUKOVAR